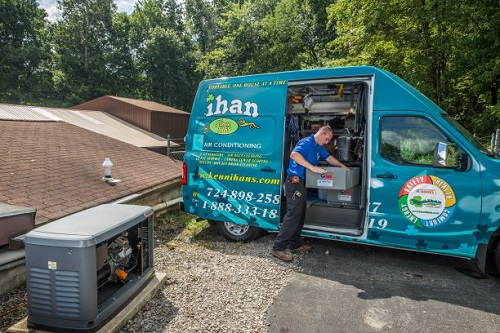 You may know about annual HVAC maintenance for your heating and cooling system, but what about electrical maintenance? Your home or business is full of electrical connections that run throughout the structure and connect to appliances and wall outlets. Most of the time your electrical connections work flawlessly without any problems.
In fact, you may not even think about all the wires running through the walls. That is until there is a problem with your electrical work somewhere. The best way to avoid electrical problems like fire hazards from faulty wiring is by scheduling electrical maintenance calls regularly. If you need an electrician in Butler County, our team can help. In the meantime, keep reading to learn more about electrical maintenance and how it can benefit your home or business. 
What to Expect from Electrical Maintenance
Electrical maintenance is unique from other types of maintenance appointments. An HVAC professional can check your heating and cooling. Appliance experts can asses problems with things like your washer, dryer, or dishwasher. But an electrician can check the electrical connections for all of these things and more. You can expect one of our electricians to inspect the following items during an electrical maintenance appointment:
Power outlets
Electrical connections
Air conditioners or HVAC systems
Electromechanical appliances
Electrical board
Circuit breakers
Signs of electrical damage
Most of the time, electrical maintenance is a preventative effort to stay ahead of electrical problems. We can identify signs that your wires are wearing out or that a connection came loose and needs adjusting. But there are some cases when our electricians identify areas of concern. They may find signs of electrical damage or breakdowns where the electricity simply isn't working. 
Examples may include replacing a circuit breaker and testing the relay. We can't see every connection behind your drywall or in your ceilings, but we can use infrared tests and analyze the temperature to make sure there aren't any unusual hot spots in your home or business. If there are any concerns, we will talk to you and offer a recommendation for staying ahead of repair needs and larger problems.
Types of Electrical Maintenance
The specific tests and reviews that an electrician performs greatly depend on the age and condition of your electrical work. An older home may have outdated resources that need to be addressed to increase safety and effectiveness. A newer home may require less work because of the difference in code standards and materials used. 
If you have any specific concerns, that will also guide an electrician in a particular direction. For example, if you have a particular room that constantly trips breakers, an electrician may begin by looking at the circuit breakers and electrical load for that particular room. 
Contact Kennihan Plumbing & Heating, Inc. today to schedule an appointment with our professionals. We treat your home like it's our grandma's home.