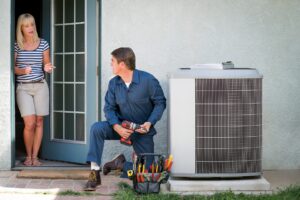 When it's time to install a new air conditioner in your home, you want to make sure that you make the best investment. Just because you have a particular type of air conditioner in your home now, doesn't mean that it is the best choice moving forward.
Instead, you should shop around and consider all your options. Then give our team a call for air conditioning installation in Butler. We can help you review all of your options and make the right decision. Keep reading to learn more about 4 different AC options and the benefits of each.
Central AC
This is definitely the most popular choice among homeowners. Central air conditioners are in a lot of existing homes, so swapping out one AC for another similar system is easy because the structure is already in place.
However, a central AC does have some downsides. The ductwork takes up a lot of space, as does the indoor portion of the air conditioning unit. Plus, this type of air conditioner can be less efficient than others when you consider that cooled air can be trapped in the ductwork or lost through holes and broken seals the ductwork.
Ductless AC
Ductless mini split units are gaining in popularity because of their energy efficiency and flexibility. you can basically have a miniature air conditioner installed in each room or zone of your house. With this option, each room can have its own temperature. If one person prefers their room to be warmer or cooler, they can choose individualized temperature settings.
While ductless air conditioners can help you save on storage space, they tend to be more expensive upfront for installation. Plus, they require more maintenance than other types of air conditioners. But you will enjoy up to 50% savings on energy costs compared to a central air conditioner.
Heat Pump
If you like the idea of a heat pump that offers both heating and cooling, there's also a more traditional option. You can have a heat pump system installed that uses ductwork if a ductless system isn't what you're looking for. A central heat pump offers a combination of benefits from both a ductless system and central air system.
You can enjoy lower energy costs compared to some of your other AC options. A heat pump will last you about as long as any other type of air conditioner with proper maintenance. If you take good care of the system, it may last even longer than the average 10-15 year lifespan. Plus, you'll also get a new heating system with this 2-in-1 option.
Inverter AC
This type of air conditioner is very similar to a standard central air conditioner. The key difference is that it offers automated variable speeds for the compressor. It's like having cruise control for your AC. If your home is particularly warm, the microprocessor can speed up the compressor to cool your home down faster. If your home is already cool, it can slow down the compressor to save on energy.
The goal of an AC using inverter technology is that the room temperature stays more consistent. Instead of having significant temperature differences in between cooling cycles, your home can stay cool without the fluctuations.
Contact Kennihan Plumbing & Heating, Inc. today to schedule an appointment with our professionals. We treat your home like it's our grandma's home.