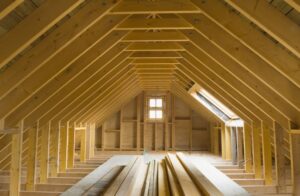 Your attic can become incredibly hot during the summer. This is because the sunlight falls directly on the roof. It doesn't end in your attic either. It causes the indoor temperature of your entire home to rise. At the same time, hot air from your home rises up and goes to the attic.
If you do not have good ventilation or fans in your attic, it can become overbearing. While a hot attic may not seem like a big problem, the excess heat and moisture could cause problems. Not only will it increase your air conditioning costs, but a hot attic can even damage your roof.
How Attic Fans Work
The main purpose of attic fans is to push the hot and humid air that gathers in your attic outside, while drawing in cooler air from outside into your home. Attics can easily reach 140–160 degrees on really hot, sunny days. 
This temperature is higher than the average outdoor temperature. It can heat up your home and push the AC to overwork, resulting in higher energy bills.
An attic fan brings the temperature of your attic closer to the temperature outside. In some cases it can drop the temperature in your attic by up to 30 or 40 degrees.
Benefits of Attic Fans
There are many benefits to installing an attic fan through an electrician in Cranberry Township. For starters, these fans can improve the air efficiency in your home and decrease the work of your air conditioner. Without an attic fan, the air conditioner would need to stay on for longer, increasing your bills.
If you live in a multi-floor building, you may have noticed how the upper floor is never as cool as the ground floor. That is because of the heated-up attic. When you install an attic fan, you will notice a significant improvement in the air temperature on your upper floor. 
The high temperature in your attic can also damage your roof. Hot and humid air attracts mold that settles under your roof. Over time, this moisture and mold can weaken the roof and cause damages that are very expensive to fix.
Lastly, your attic is supposed to provide insulation to your home, keeping it warmer in winter and cooler in summer. The attic fan balances out the temperature and provides support to the insulation material.
Should You Get an Attic Fan for Your Home?
Many homeowners want to equip their homes with the right tools to keep them cool during hot days. An attic fan is a good option, especially if you want to reduce the load on your HVAC unit.
With attic fans, homeowners can not only improve the temperature in their homes, they can also reduce the risk of moisture buildup. You can even get a solar attic fan that isn't too expensive to run and works wonders for keeping the attic cool.
We're here to help you find the perfect attic fan for your needs.
Contact Kennihan Plumbing & Heating, Inc. for an appointment today. We treat your home like our own.