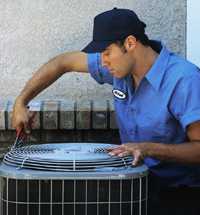 Refrigerant leak – those are two words you definitely don't want to hear when it comes to your AC unit. While a variety of things can go wrong when it comes to your HVAC system, a refrigerant leak warrants immediate attention. Why? Because refrigerant is a chemical that can lead to significant corrosion of other parts within your unit. This can have a domino effect of expensive repairs that add up quickly.

A refrigerant leak may not be very obvious at first. But early warning signs are easy to identify once you know what they are. If you suspect you have a refrigerant leak in your air conditioning in Butler County, our team can help. But first, it's important to learn the signs of a refrigerant leak so you can identify a leak early. 
Why Does Refrigerant Leak?

Refrigerant is housed in a tube inside your HVAC unit. When a cooling cycle turns on, your unit releases some of this liquid refrigerant and turns it into a gas to cool the air that will circulate through your home. A leak can occur at the source of refrigerant – the tube – or anywhere along the connections it travels to reach your evaporator coils during a cooling cycle.

Something may puncture an area of your unit leading to a refrigerant leak. But the parts can also wear down naturally over time. It's not uncommon for AC units to have a refrigerant leak between four and seven years of age. A refrigerant leak is easy enough to repair, but it can cause a cascade of other damage when left unaddressed. 

Signs of a Refrigerant Leak
When something goes wrong with your AC unit you may be tempted to brush it off. The AC blows a little warm one day and then feels cooler again, so it must not be a big deal. But maybe it is a big deal that's going to lead to a significant repair three months from now. Instead of ignoring the signs, call our team of experts when any of the following happens:

Your AC unit stops blowing cool air – even for a short period of time
Your AC is creating a hissing or bubbling noises during operation
Your home suddenly feels more humid than usual – you can even get a thermometer to measure the humidity indoors
Your evaporator coil is frozen or icy
Your energy bill is going up even though you haven't changed your energy use
You hear unusual sounds coming from your unit like hissing, water running, or something  knocking
Addressing a Refrigerant Leak
If a refrigerant leak goes unaddressed, more and more refrigerant enters your system. That means more parts get corroded and the damage spreads. While some issues can be repaired and some parts can be replaced, significant damage may call for a whole system replacement. This means spending thousands on a new unit, even if yours should have had years of life left.

Calling for a checkup is an investment in the life of your HVAC unit. If you do have a refrigerant leak it can be addressed. If you don't, our technicians can address other issues that are leading to poor system function. No matter the outcome, you're making a smart choice.

Contact Kennihan Plumbing & Heating, Inc. today to schedule an appointment with our professionals. We treat your home like it's our grandma's home.