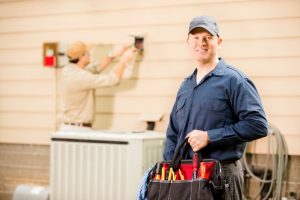 Have you thought about your air conditioner already? Now we'll be the first to admit that, sometimes, things can slip through the cracks. We know that we're people who have made our entire career surrounding air conditioning and heating, but we understand how a tune-up for one of these devices could be one of those to-do-list line items that find itself at the bottom of your list week after week.
If you want air conditioning maintenance in Butler, PA from a professional, then you need to come to the professionals on our team. We're going to tell you everything that you need to know about air conditioning maintenance below. Just make sure you trust a reliable professional with your work.
Why You Need Maintenance
We know that you might question why you need maintenance in your home—if your air conditioner seems fine, why would you spend the money or the time on the work that you need? Well, it's because your air conditioner only seems fine. Thinking that you can tell the status of your air conditioner from the outside looking in is a mistake. This is how you can find yourself in the middle of a messy air conditioning breakdown. You're going to need a professional to take a closer look at your system.
When we perform maintenance for your home AC, you can expect the following:
A Lessened Need for Repairs: Do you feel like you have an air conditioning repair need every single summer? This isn't a good sign. You probably have air conditioning inefficiency that can be fixed with maintenance.
Cheaper Energy Bills: Are you paying hand over fist cash for your air conditioner? Your AC system is going to cost you a little more during the height of summer, but if it's consistently expensive, then it's a problem.
Extended Equipment Life: Do you want your air conditioner to last you a long time? We're sure that you do. Your air conditioner is expected to 10–15 years, but it can't do this without the proper maintenance.
Get in touch with us today to learn about your options.
What Our Maintenance Plan Includes
We have a maintenance program for our customers because we understand the importance of maintenance. We want to make sure that you're getting routine, quality service for every single system and unit that you've got in your home. You can enroll in our air conditioning maintenance program and enjoy the following:
A 20% discount on HVAC repairs and special discounts on plumbing
Priority customer status
One-day replacement
Inflation protection
A transferrable agreement
A 24-hour emergency service
You never have overtime charges
Service today or you don't pay (an appointment within 24-hours or you have a waived diagnostic fee)
Our maintenance plan benefits your home comfort. If you'd like to keep your home cool this summer for a low price, make sure that you call us to learn more about our maintenance plan.
We treat your home like it's our grandma's home! Come to us when you want great air conditioning work in Pennsylvania.