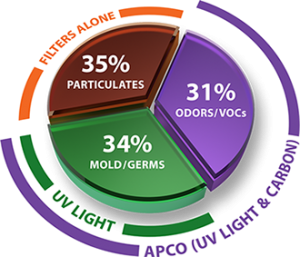 If you're unfamiliar with the term IAQ, let's get you started. This is a term that's been around for well over 10 years, and it's here to stay. It stands for Indoor Air Quality, and it's become increasingly important as homes continue to be better insulated and sealed to save energy. These changes allow less air to enter and leave the home, which may make a home's air stale at best and a lot more polluted at worst. Certainly, the recent pandemic has forced us to stay home, making this more important than ever!
Changes to improve indoor air have been so seamlessly integrated into our lives that you may not know you have some sort of remedy that falls under the IAQ category. These range from air filters, ultraviolet (UV) lights, humidifiers, dehumidifiers, recovery ventilators, and more. In this article we will be going over just the main elements, so you won't have to hold your breath for long—pardon the pun!
The Factors Impacting Your IAQ
There are many parts that affect your indoor air quality. The main home pollutants can be defined as: particulates, odors and/or volatile organic compounds (VOCs), and biological.
Particulates—Examples of these are dust, spores, pollen, pet dander, and dust mites. 1″ filters really don't do much to control these, and the 1″ ultra allergen filters just make your blower work harder. This only causes you to incur more repairs and waste more energy. (As a comparison, think how hard it is to breathe through a napkin.) A Healthy Home filter from Aprilaire is designed to provide maximum filtration with minimum airflow restriction, allowing you to trap those particulates while also allowing your HVAC system to draw air with ease. Now that we have gotten rid of the bigger particles, let's talk about the ones that may pass through the filter.
Odors/VOCs—These are the perfumes, aerosols, cleaning supplies, and chemicals emitted from new furniture or carpets. This third of the pollutants is almost fully generated indoors—don't look to the outside air as the culprit. Cleaning these from the air will require an air purifier like the APCO. Continuous air circulation and exposure to this light in your ductwork will neutralize these odors and compounds over time.
Biological—These include mold, bacterial viruses, and allergens. Any of these traveling through your household air will also be neutralized over time with the APCO air purifier. Of course, this isn't a cure-all, and surfaces still need to be cleaned, but it will definitely improve your air quality.
While there are other things to consider that can help (like humidity) this is just 101 so we will leave the rest for 102. Make sure to tune in next time! At the beginning of our technicians' visit, feel free to ask for your complimentary IAQ test and our technicians will be able to give you a snapshot assessment of what's going on in your home.
Call our Butler County professionals today to perfect your IAQ.