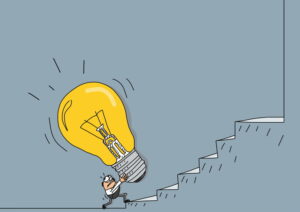 Your home's lights are flickering, and you don't know what to do. Flickering lights are often a sign of a deeper electrical issue. You don't want to ignore something like this. Trust us when we say that it's important to have your electrical system under wraps. Think about it: you use your home's electrical system more often than ever in the modern day. Think about all the appliances and personal items you wouldn't be able to use if you didn't have your home's electrical system.
Do you need an electrician in Butler, PA? Then you have a great team of professionals on our team at your disposal. We're qualified experts. This means that you can get the right electrical work you're looking for from our team. We're here for you to get the best work for home.
"Why Are My Lights Flickering?"
Let's get to the bottom of this problem here. Before we take a step further, we'd like you to ensure that you've exhausted all your options:
Tighten Loose Bulbs
Give all your bulbs a little twist before you pick up the phone. It's not every day that we're walking up to our light bulbs and touching them. It's likely that something could have knocked this bulb loose at some point. This might be causing the flickering you're experiencing.
Upgrade Where Possible
Do you have old light switches throughout your home? You should try to upgrade these units on a regular basis. If you haven't upgraded in a while, then it's important for you to do so now.
Switch Out Old Bulbs
If you've got old light bulbs, you're likely to have light bulbs problems. If you're going to upgrade, you might want to make the big switch to a smart bulb. Smart bulbs are great because they reduce your energy-usage, and they help you get better lighting throughout your home.
If you've tried everything that we've listed above and your lights are still flickering, you might be having an issue with the following problems:
Loose Wiring
If you're having persistent flickering troubles, you might be suffering from a loose wiring problem. Old, loose wiring is a problem in your home. It's actually a potentially dangerous issue if you let it go on too long. Make sure that you have a professional electrician handle your home's needs to keep your home safe.
An Overloaded Circuit
Flickering lights could actually be the symptom of an overloaded circuit. If you're running major appliances in your home (your air conditioner, heater, washing machine, etc.) at the same time, an older circuit probably can't handle the entire load. Flickering lights can be the consequence of this. You need to update your circuit to relieve this issue. Watch out for buzzing noises too. If you notice a problem like this, we're going to help you find the solution to the problem that you're having. We'll make sure to do this safely too.
Contact Kennihan Plumbing & Heating, Inc. today to schedule an appointment with our professionals. We treat your home's like it's our grandma's home.