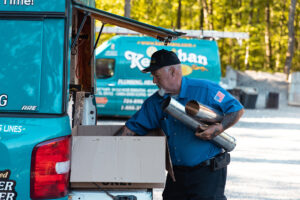 Spooky season is upon us, and you may very well enjoy the thrills and chills that are a part of the season. However, when your furnace starts acting up, it's just not the same kind of scare that you might be looking for. Instead, it's possibly a sign that you need furnace repairs or replacement.
If your furnace hasn't been operating the way it should, you may be searching for 'furnace repair near me.' Well, you reached the right place! Our team is here to help. You can keep reading to learn more about the signs that it might be time to replace your furnace. Don't let the fear of a possible need for a furnace replacement keep you from giving us a call to schedule your in-home assessment.
Unusual Sounds
There are times when things go wrong with your furnace and you can make repairs. But other times you need to replace your furnace completely. Hearing unusual sounds, especially if they are loud or persistent, points to very serious heater problems. Loud sounds can mean that something major is wrong. 
For example, if you hear a booming sound coming from your gas furnace, there may be an issue with the combustion process at the beginning of the heating cycle. A small explosion is happening and putting a lot of pressure on the heat exchanger. If the heat exchanger cracks due to this pressure, your entire heater might need to be replaced. 
Some sounds are quieter, yet persistent. These are equally worrisome. For example, you may hear a clicking sound that happens over and over again. In this case, your heater is struggling to turn on for a heating cycle and putting a lot of strain on the system.
Cold Spots
Spine-chilling cold spots throughout your home are no fun. No matter what type of whole house heater you have, it should be able to warm your home consistently between each of your rooms. If you have one room that has cold spots, that's a sign of something being wrong.
If the rest of your home is warming up just fine, the problem is not likely your heater. Instead, your ductwork may be laid out incorrectly or has shifted. There's also a chance that your ductwork has holes or broken seals that are allowing heat to escape before reaching that particular area of your home.
It's also important to check air vents and make sure that all of them are open. If you have a cold spot in one room, the air vents should be the first place you check. It's possible that one got closed on accident or that furniture is blocking an air vent so that airflow cannot reach the room adequately. But if none of these things solve the problem, your heater may be simply wearing out and in need of retirement. It may be time to invest in a new heater that can keep up with your heating needs.
Lack of Heat
If you have a general lack of heat, that is a big problem. When you have your thermostat set to heat, you should be able to hold your hand up to any air vent in your home and feel a strong stream of warm air coming out. If the air is lukewarm or cool, your heater is not working properly. Lukewarm air may still heat your home slightly, so it may still be reasonably comfortable. But we encourage you not to ignore this problem.
Schedule an appointment for service with our team. If there is something wrong inside your heater that we can fix, we will do so. But if we think that a problem is more serious and warrants a complete heater replacement, we will talk to you about your options. When repairs become too expensive it can make a lot more sense to invest your money in a brand-new heater instead of pouring more into a system that is already older.
Contact Kennihan Plumbing & Heating, Inc. today to schedule an appointment with our professionals. We treat your home like it's our grandma's home.