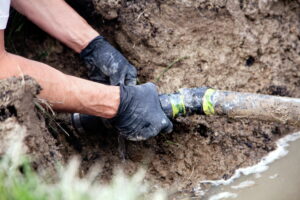 You probably don't want to think about sewer problems. You would rather they just never happen. Unfortunately, ignoring sewer problems or pretending that they don't exist is not going to make them go away. The only way to prevent sewer problems is by knowing the signs and scheduling service early, before sewer problems become a real menace.
Give our team a call when it's time to schedule sewer repair for your home. You can also schedule maintenance appointments to stay further ahead of any issues and even prevent them altogether. You can keep reading to learn more about the signs that you have sewer problems demanding your attention.
Persistent Clogs
If you have persistent clogs across your entire home, that's a red flag that you have sewer problems needing to be addressed. It's common to have a clog here or there over the years. If you are dealing with clogs all the time, and especially clogs that happen all over your house without rhyme or reason, you probably have sewer problems that need to be addressed. 
Instead of trying to address each clog individually, we encourage you to address the problem at its source and fix whatever sewer problem is contributing to the clogs. There may be a major blockage that needs to be addressed such as a tree root growing through a main water line in your yard.
Yard Issues
And speaking of your yard, that's one place to check for signs of sewer problems. When major sewer issues happen, there are often signs that appear in your yard before they appear anywhere else. You may notice that there is unexplained water in your yard, especially in large puddles. You may also notice an increase in the number of pests that are in your yard as a result of sewer problems.
It's easy to write these problems off and place blame elsewhere, but it's always better to be safe than sorry. If you notice any issues with your yard, we encourage you to get your sewer checked out sooner rather than later. If you address a problem early, you may be able to avoid additional inconveniences like water backing up into your home.
Bad Odors
If you have unexplained bad odors around your house, sewer problems may be to blame. You can lean down and smell any of your sink or bathtub drains to see if that is where the bad odor is coming from. If so, you should consider it a major red flag. Your home's plumbing has special designs to prevent bad sewer odors from wafting up into your home.
If you have bad odors despite this design, it's time to address the issue. That odors are not just a minor inconvenience. They can also signal that bacteria is entering your home, too. This can put your family's health at risk in addition to making your home smell bad in the process.
Gurgling Sounds
When you hear any unusual sounds coming from the drains in your home, consider it a warning of impending plumbing problems. You should never hear sounds coming from your drains unless you are actively using a faucet and water is draining away.
But even when water is draining, gurgling sounds are concerning. They can indicate that there is a clog somewhere that water is struggling to get past. The gurgling that you hear is air escaping up to allow water to drain down.
Contact Kennihan Plumbing & Heating, Inc. today to schedule an appointment with our professionals for sewer service. We treat your home like it's our grandma's home.