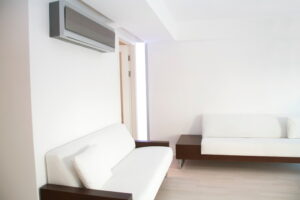 For many homes, the use of a ductless mini split system can be an exceptional tool. It may be the ideal solution for both heating and cooling areas of your home.
You may have an area of your home that is hard to cool or heat, such as a four-season room. You may have an area that needs special help, such as a basement bedroom. These are just a few examples of when you may wish to take a look at how these systems may work. Ductless mini splits in Butler County, PA can be an exceptional investment for several key reasons.
Core Benefits to Ductless Mini Split Systems
Before you make the decision of what type of heating and cooling system to put into your home, check out some of the benefits ductless mini split systems offer.
Efficiency
These systems tend to be more efficient than air conditioners or heat pumps. That is because they allow for temperature control in one or a couple of areas of the home rather than the whole house. If you want a significant temperature difference in one area or another, then this can work well to achieve that. Be sure to choose a model that's capable of reaching efficiency goals based on where you plan to use it.
They are flexible
Mini splits like this do not require ductwork. If you have an area of your home that needs to be treated, such as your garage, but you do not have ductwork there, you can easily run this type of system in its place. You can use a ductless system like this for both heating and cooling in these often hard-to-control environments. At the same time, they are also highly capable of controlling humidity in areas, too. 
Environmentally friendly
Overall, a ductless mini split is a more environmentally friendly option. Instead of trying to cool or heat the whole home, which can be expensive if you are not using all of it, this can help to create the comfort you need where you need it. That may help to improve your overall comfort level while keeping your heating and cooling budget a bit more in line with your goals.
Use them in as many rooms as needed
The use of ductless mini split systems allows you to have a truly customizable and scalable solution for your home. Use them in just one area or room if you like. You can upgrade over time if you want to do so to include more areas of the home. This provides a lot of flexibility throughout the property for controlling heating and cooling needs. 
It's a good idea to speak to a technician about your options with these systems before you invest in them. Compare them to other solutions that may work for you as well. If you do not need whole home heating or cooling, a ductless mini split could be the ideal overall option.
Contact Kennihan Plumbing & Heating, Inc. today to schedule an appointment with our professionals. We treat your home like it's our grandma's home.