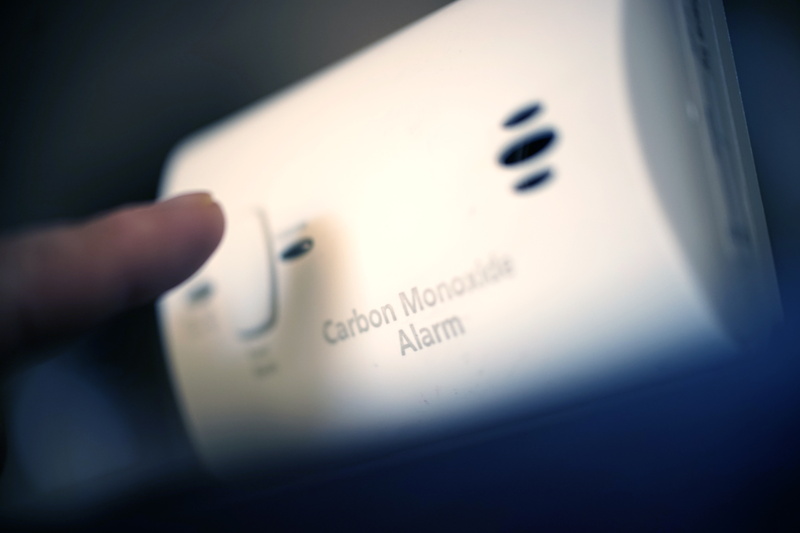 On a cold February day, Zach was headed to his last call of the day. This one was just an estimate for a mini-split unit the homeowners were interested in adding. Zach, who has been working for Kennihan Plumbing and Heating for 9 years, had moved up the ranks as a very capable HVAC technician and helped whenever needed to give estimates to our customers.
He approached the home in the nearby town of Mars and greeted the lady of the house. He started talking to the lady when an alarm went off on his belt. This was his carbon monoxide (CO) monitor called the CO Angel. 
Every employee at Kennihan Plumbing and Heating carries this device made by the National Comfort Institute (NCI).  Its sole purpose is to measure and alert technicians of any levels of CO, an odorless, tasteless, invisible, in the house. This gas is capable of fatally hurting humans in high concentrations.
Zach went about scoping the job he was there to do and before he left he told the lady that his monitor could be acting up, but he wanted to make sure and he would step outside let it clear, and come back in. He brought in the home version Low Level CO Detector NSI 3000 as well as his belt monitor. Once again the monitors went off. What mostly surprised Zach was how high the reading was.  He asked the homeowner if she had any gas appliances to which she said "Our house is all-electric, except for maybe the new tankless water heater we had put in a few days back which uses propane."
He called the office to speak with Bill Kennihan and explained what he had found so far. Bill suggested he take in his combustion analyzer, another tool our professional HVAC technicians carry to read how the gas equipment is performing—it also reads CO.  Zach took the analyzer throughout the home and immediately realized that this was no misread. Carbon monoxide had accumulated in this home at a rate of over 200 parts per million (ppm), well over any accepted code limits for this gas.
Zach immediately requested the lady go outside and, since she was getting ready to pick up her two boys from school, he would stay and open the windows around the home. When she came back she decided to call 911. 911 immediately called the fire department but also had dispatched an ambulance to the home. The paramedics arrived and tested the adults for CO poisoning and found they tested positive. After letting the house air out for a while, Zach went back inside, and concentrations had dropped to 20 ppm. He immediately went to check the tankless water heater and found the exhaust pipe had not been glued and had come apart allowing the CO from the basement to seep into the house instead of outside.
The homeowners were then instructed to not operate this unit until it had been properly checked. Bill had told him he had a feeling that the water heater unit was not burning right because it was set up for a more common fuel, natural gas, instead of liquid propane which was the fuel used in this instance. Bill also had found the unit had a recall. 
This happened on a Thursday afternoon. The next day school was canceled due to snow.  The children and their mother would have likely spent many more hours in the home over what turned into an unexpected long weekend. They may have gone to sleep never to wake up.
What's amazing is Zach didn't go there to check on the gas equipment. He was just checking rooms to scope a job but because he had this monitor from NCI clipped on his belt he was able to find this situation that saved this family's life. We have read stories like this in the paper where people are found dead from this gas. Thankfully for us, it didn't happen on our watch.
It is our sincere hope that this story gets shared so that:
People get to understand that carbon monoxide is an often overlooked gas and dismissed as unimportant but it is, and older people and children are more susceptible to its harm.
People take the precautions to hire reputable contractors for the installation of gas equipment in their homes
Have their equipment checked by certified combustion analysts' professional technicians to make sure they are not seeping out CO.
Inspect any exhaust pipes from gas equipment.  If something doesn't look right. Have it checked by a professional. Your life depends on it.
Take your safety seriously and schedule an appointment with our technicians today.