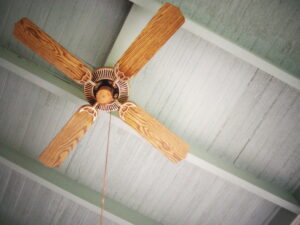 You'll want all the help you can get staying warm indoors during the winter. Did you know your ceiling fans can actually help out with this? Yes, that's correct: you may have overlooked an important ally in your house when it comes to winter comfort.
This isn't something that many homeowners in our area realize. This is why our electricians in Cranberry Township, PA can help you out. Today, we want to talk about how a ceiling fan can help with your home comfort, why it helps, and other things you can do to improve your heating this winter.
How Your Ceiling Fan Can Help
We find that when we talk about a homeowner's ceiling fan, they most often associate the fan with spring or summer. Yes, ceiling fans can obviously be used to cool off people on a warm day. While this is what they're most often associated with, this isn't the only job they can be used for. You can flip the switch on the base of your ceiling fan and have the blades spin in the opposite direction.
When the blades move in the reverse direction (clockwise rather than counterclockwise), the fan pushes the warm air that's naturally collected at the top of your home's ceiling down toward your living area. This is great because you can fully benefit from the warm air in your home this way and have heating spread faster. That heat is not going to do much good just sitting at the top of your ceiling, and it can do so much more in the right places.
The Benefits of a Ceiling Fan
Sometimes, homeowners want to see the benefits of their ceiling fan plainly stated. Here are a few of the best ones:
Better Heating: One of the best benefits to having a ceiling fan in your home is having better heating. You're likely to get better heating by using your ceiling fan because it redistributes the warm air in your house and puts it in the right places.
Energy Efficiency: It's important to have the proper energy efficiency service for your home, your carbon footprint, and the outcome of your monthly energy bill. If you want to improve your home's energy efficiency, getting your ceiling fan involved on the job is one of the best things to do because it reduces the strain your system feels during a heating season. 
Lower Heating Bills: We all want lower heating bills, right? Lower heating bills are achievable as long as you have your ceiling fan involved because it makes warmth easily achievable. You'll probably find yourself using your heater less or running it lower temperatures if you make more use of your ceiling fan.
Adding your ceiling fan into the mix can always be beneficial. If you need ceiling fan services, need help finding the switch to flip for heating season, or have any other questions, our team members are always available to help.
Contact Kennihan Plumbing & Heating, Inc. today to schedule an appointment with our electrical services.