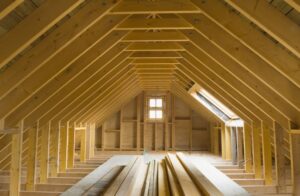 This is the year we want you to put your attic fan to work and even consider getting one if you don't have one already. Attic fans are great because they help you use your HVAC systems less and achieve comfort with greater ease. We find that homeowners just aren't putting enough emphasis on these systems, so we're here to do our part today.

We have a full team of Mars, PA electricians ready to work for you. When we say "work," we mean much more than just the actual execution of your electrical services. We also mean answering any of the questions you might have. We're going to get started on this today.
How It Works
Think about how hot it was this summer in Mars. We know that you spent plenty of days trying to cool off at home. Now think back to your K-12 days in science class. What does heat do? Rise!

Heat rises in your home and often ends up in your attic. Once the heat collects in your attic, it's eventually going to move downward into the cooler areas of your home. That's where your air conditioner steps in. It's going to do its best to cool off your home and it might even be able to do it, but it's going to have to work much harder than it should just to achieve this. 

Having an attic fan means that you can start to work against hot temperatures in your home from the source. An attic fan prevents the hottest part of your home from heating up too much and working against your comfort.
The Benefits of an Attic Fan
Now, let's get into the concrete details of having an attic fan. Here are a few:
Increased Energy Efficiency
Like we detailed above, attic fans make it easier for your home's air conditioner to perform without unnecessary stress. This is going to help you increase your home's energy efficiency and increase your comfort as well. Just make sure that you're keeping this in mind when you're weighing your pros and cons. This will help everyone in your home feel more comfortable 
A Cooler Home
One of the best benefits of having and using an attic fan is getting a cooler home overall. This is going to help you cool off faster and more efficiently during the height of the summer season. This is as easy as long as you have a team of professionals by your side.
A Moisture-Free Attic
We're no strangers to a moist attic in Mars. Our summers are just as hot as they are humid. If you're struggling to keep your attic free of excess moisture and all the symptoms that come along with this, then you should consider an attic fan. Another perk of one of these units is that it can keep your space dry. We're available to help you figure out what's right for your space. 

Contact Kennihan Plumbing & Heating, Inc. for your home's electrical needs throughout the year. We treat your home like it's our grandma's home.