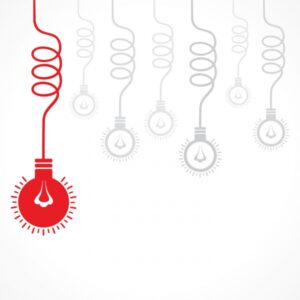 Your house could do a bang up job as a haunted house this fall because the lights are flickering like they're paid to do it. You've unknowingly adopted a spooky ambiance in your house.
We're sure that this would be cool in October, but experiencing this during the spring is sort of a buzzkill. You can't read underneath this lighting, it's hard on the eyes, and it might even cause you headaches.
This is when you need to call an electrician in Gibsonia, PA. Flickering lights are so much more than an inconvenience. It's a disruption in your home. If you need help fixing a flickering lightbulb, then schedule an appointment with us.
What to Do
Sometimes, the answer to all your problems can be as simple as a flick of the wrist. Make sure that you hit your lightbulb with a little twist to the right before you try anything else. It's possible for your lightbulb to get knocked out of place. A simple twist could set you back on the right path.
Let's say that your problem is a little more persistent, though. You're going to need the help of a professional. Don't opt for anything else; drawing out the problem will only make it worse.
Figure Out the Source
It's great to be able to fix a flickering light in your home, but if you'd like to avoid this problem happening in the future, then you're going to need to figure out the source. This could be the culprit behind your issue:
Poor Connection
You might have a poor connection causing you to have flickering lights. These connections are vital when it comes to your home's electricity. You can test if you have a poor connection by wiggling the on or off switch. Try it. If you notice that your lights start to dim, then you've got a bad switch on your hands.
We never suggest that you DIY anything when it comes to your electricity, but we strongly discourage this when it comes to your switches. This is the easiest way to walk yourself into a problem involving electrical shock. Keep yourself safe by calling a professional.
Dimmer Switches
If you have an LED bulb, then you should know that one of the more common causes of flickering is the use of dimmer switches. Most dimmers are made to handle higher electrical loads. This is great, but the downside of this is that low voltage LEDs might flicker when they're connected to a dimmer.
This is why it's important to check the compatibility of your electrical appliances. Getting rid of your flickering can be as simple as switching your dimmer or switching the bulb.
Heavy Usage
If you have flickering that happens consistently, then you might want to check in with the ability of your electrical system. The flickering might be occurring because your circuit is overloaded. This is typically the case when your lights start flickering while running a major appliance such as an air conditioner or washing machine. Have our technicians check it out for you.
Contact Kennihan Plumbing & Heating, Inc. for your electrical services. We treat your home like it's our grandma's home.