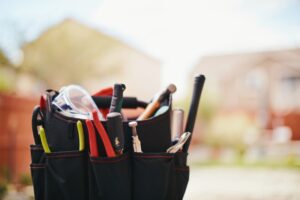 Your furnace has a blower motor that helps to move heated air through the system and into your home. There are a variety of reasons that your furnace blower might stop working. While you may be tempted to troubleshoot these on your own, it's always a good idea to enlist the help of an expert.
Even if you have the best intentions, if you don't know exactly what you're doing, you can cause more harm than good. If you need furnace repair in Butler County, our team is happy to help. In the meantime, you can learn more about why your furnace blower motor is out and what you need to do next.
Thermostat
If you suspect that your blower motor is not turning on, the first place you need to check is your thermostat. Your thermostat reads the indoor air temperature and then communicates with your heater to increase the temperature appropriately based on your settings.
If something is wrong with how your thermostat measures the temperature or communicates with your heater, that can impact your blower motor. You may think that it's time for the heat to turn on, and then it doesn't. The good news is, this is usually an easy fix. Our team can help you recalibrate your thermostat and run some tests to make sure that it is working appropriately. If needed we can also repair or upgrade the thermostat too.
Wiring
It's possible for your electrical connections to wear down over time. If you look at plugs and cables and notice that there are spots where they look worn and frayed, this can impact how your blower motor works. Only a certified electrician should handle your heater's electrical connections. If you have any concerns about the wiring, turn your heater off and give us a call.
Air Filter
If your air filter gets particularly dirty, it can block airflow into your system. If your heater doesn't have enough air flowing in to be heated, it cannot blow warm air throughout your home. Change your air filter if it looks dirty, and see if that helps. It is best to change your air filter every one to three months to be safe.
Air Vents
It's also possible for airflow out of your system to be blocked. You want to make sure that all of the air vents in your home are completely open and not blocked by furniture. If air cannot get out into your home, it backs up into your heater. This can lead to overheating and cause your system to shut down as a safety measure.
If your air filter or air vents are to blame, you can turn your furnace off completely and allow it to cool down. Then turn it back on and see if that solves the problem. If you continue to have issues, give us a call so that we can help.
Contact Kennihan Plumbing & Heating, Inc. today to schedule an appointment with our professionals. We treat your home like it's our grandma's home.