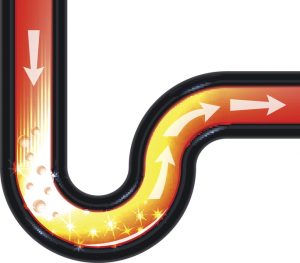 It's cold and that's no secret. We're officially reaching that time of year where we experience the coldest temperatures yet. This time of year is also when you're probably your busiest at work and in your personal life. Things can get hectic, we're definitely feeling the stress too. Although it's common to feel this way during this time of the year, it's incredibly important to keep your home in proper shape so that you avoid problems. One of the potential areas for problems that we want to focus on today is your plumbing system.
Cold weather can bring issues to light in many areas. If you find yourself running into trouble this season, then we suggest that you get yourself a reliable plumber in Cranberry Township, PA. We're a team of professionals who care and it shows in our work.
Common Cold Weather Plumbing Problems
So let's talk about it! What are some problems that you might run into during the cold weather season? The most obvious answer is a pipe freeze. This is something that we get many calls for during this time of year. This is because the temperatures get so cold that the water moving through your pipes freezes as it's exposed to cold air. This is a problem all on its own. If your home's water is frozen, then you're going to struggle without running water.
Although a frozen pipe is a problem on its own, a frozen pipe can also lead to a pipe burst. A burst pipe is an even bigger problem because this is something that's going to impact your plumbing system as a whole. Pipe bursts can be costly because it's easy for them to cause water damage. This is why we always encourage you to act quickly.
How to Prevent Cold Weather Plumbing Issues
So now you understand how cold weather can cause plumbing issues, you might want to consider ways that you can prevent these problems from happening. Here are a few good measures that we suggest to all our team members:
Insulate Your Pipes: One of the easiest ways you can protect your home's pipes is with insulation. Insulation can be as easy as running over to your local hardware store and getting yourself some insulation sleeves. 
Disconnect Your Hose Bibs: Did you disconnect your hose from the hose bibs at the beginning of this season? If you haven't, then it's time to do this now. This can prevent a host of issues. 
Open Your Doors Underneath Sink: This is a cheat code that we like to tell every homeowner we speak with. Open those doors underneath your sink! It's the easiest way to make sure that your pipes here never get too cold. 
Let Water Drip From Problem Pipes: You know that there are problem pipes that you might have in your home. If you've had repeated trouble with a certain pipe in your home freezing, then we would suggest that you let water drip from this one pipe. This is the easiest way to prevent a frozen pipe in your area. 
Contact Kennihan Plumbing & Heating, Inc. today to schedule an appointment with our professionals. We treat your home like it's our grandma's home.