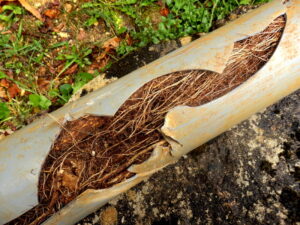 If you need repairs to your plumbing system or sewer line, or need a complete plumbing system replacement, you may have read about the pros and cons of trenchless technology. The good news is, the benefits outweigh the risks when it comes to trenchless plumbing in Valencia.
You can keep reading to learn more about why our team prioritizes trenchless technology whenever possible. Then, give us a call to assess your home and offer recommendations about how we can employ trenchless technology for your plumbing system.
How Does Trenchless Technology Work?
Replacing a sewer or drain pipe used to require that the entire area be excavated so the plumber could access the pipes. it would have to be dug up across the entire length of the sewer line.
No-dig trenchless technology removes all the headaches from this process. Instead of excavating the entire pipe, access holes are dug at both ends of it. A hydraulic pump is placed at one end of the pipe. The pump is then used to pull a pipe burster through the old pipe, breaking it up and making room for a new pipe to be installed. Then, the new pipe is simply pulled in from one side to the other. Just like that, the new pipe is installed and ready to go—it's that simple.
Trenchless technology is also an environmentally friendly option that'll save most of your trees, shrubs, plants, and landscaping, leaving them alone without any disruption. With the trenchless method, there's less damage done to the property, the job is done much faster, and there's much less to clean up. In this day and age, there's no reason to work with a plumber who doesn't use trenchless technology.
Safety
Plus, trenchless technology is much safer. When there's less excavation, there's less disruption. And when it comes to what our team does, safety is our top priority. Trenchless technology is safer for our team to complete and it is also safer for everyone around the project. Digging a huge trench poses safety hazards until the project is complete.
Because trenchless technology eliminated the digging of trenches, it's easier to avoid potential issues such as landslides or mud and water infiltrating the tunnel that can happen when excavating a large amount of your property. Because of the massive reduction in the amount of ground affected by trenchless technology, that means you'll practically eliminate the surprises that might be found as what could be hiding in all that the soil. You never know when you're going to encounter unexpected hazards underground, and the less soil that's being moved, the better
The bottom line is, you have to make the best decision for your home. However, we encourage you to schedule an assessment with our team so we can walk you through the steps of using trenchless technology, so you better understand how it works.
Contact Kennihan Plumbing & Heating, Inc. today to schedule an appointment with our professionals. We treat your home like it's our grandma's home.