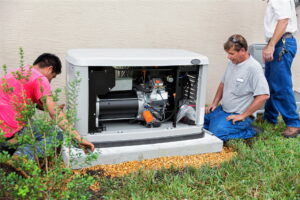 If you invested in a generator for power outage emergencies, you want to make sure it's in great working condition year round. That way when an emergency situation does arise, your generator is ready to switch on and meet your power needs without an interruption of service. 
And if you do need service for whole house generators in Butler, PA, our team is here to help. In fact, scheduling professional maintenance once a year is one great way to take care of your generator. You can keep reading to learn more about both homeowner and professional maintenance for your generator.
Change the Oil
Just like you change the oil in your car, you also need to change the oil in your generator regularly. If your generator is brand new, the first oil change needs to happen after 25 hours of use. Following that, you can change the oil once every 50 to 60 hours.
Since power outages can last for more than one day, you want to have a supply of oil on hand. You may need to change the oil in your generator during a power outage. Doing so is the best way to ensure that your generator has a long lifespan and works efficiently every time you need it. Otherwise, you may run into problems and be left without power and without a backup generator.
Test Regularly
It's also important to test your generator once every few months. You can do this by flipping the mainline breaker in your home to off, cutting the power supply to your home so that your generator will turn on. Each time you complete this test, let your generator run for about 10 minutes and walk around your home to make sure everything is receiving power as it should. 
Then you can switch your breaker back to the on position and your generator should turn off again. If your generator doesn't turn on or there is a delay or other problem, get it checked out right away. It's better to stay ahead of generator problems and fix them before they get worse.
Professional Maintenance
Having a professional look at your generator is just as important as the homeowner maintenance that you will complete each month. When you do test your generator, you should also be looking for any obvious problems, like leaks or damage to your generator. If you notice anything out of the ordinary, let our team know when we come for a service appointment.
Even if you don't think anything is wrong, our team may notice things that you don't. Plus, we can take a look at the inside of the system and make sure that everything is working as it should. We want your generator to be ready for any loss of power, big or small. Annual professional maintenance is just the way to do that.
Contact Kennihan Plumbing & Heating, Inc. today to schedule an appointment with our professionals. We treat your home like it's our grandma's home.