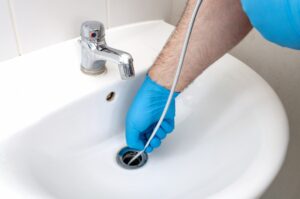 Plumbing clogs can be a major headache. Some clogs are easy to break up, but other tough clogs need a stronger solution. Enter, hydro jetting. This technique for breaking down tough clogs is a great way to get your plumbing working again without any damage to your pipes.
If you have been searching for 'hydro jetting services near me,' look no further. We have certified plumbing technicians that are experts in the field. They can locate your tough clog and use our hydro jetting tools to break it down and even prevent it from coming back again. Keep reading to learn more about the benefits of hydro jetting and how it works.
About Plumbing Clogs
You can get a variety of different types of clogs in your plumbing system. Some clogs are located inside of your home closer to the drains in your sinks and tubs. Other clogs are deep in your plumbing system beneath or even outside of your home and can be really difficult to break down and remove.
One problem with drain clogs is that once they are removed, they can leave behind residue on the sides of your pipes that encourage clogs again in the same areas. All it takes is a few particles of grime sticking to the sides of your pipes to collect additional debris and quickly develop a clog. 
How Does Hydro Jetting Work?
You've probably heard of chemical drain cleaners that break down the clogs and even snake tools that can reach down into your pipes. Hydro jetting is a different technique that uses water under strong pressure to break down a clog.
The first step to hydro jetting is locating a clog. Then our team takes your plumbing connections apart near the site of the clog and uses the hydro jetting tool to break down the clog so it can rinse through the rest of your plumbing system. Part of the hydro jetting process includes spraying down the sides of the pipe so that clogs are less likely to develop in the same place again.
Benefits of Hydro Jetting
Hydro jetting is a much faster and safer way to break down plumbing clogs. Drain cleaning chemicals can do a lot of damage to your plumbing by causing corrosion. Instead of your pipes having a long life span, you may have to replace part or all of your plumbing systems sooner. The snake tool that we often use may leave some residue behind if the clog is really tough that allows it to form again in the near future. Hydro jetting is the most effective and safest way to break down plumbing clogs.
Contact Kennihan Plumbing & Heating, Inc. today to schedule an appointment with our professionals. We treat your home like it's our grandma's home.